2009's "House of the Devil" is not amazing - it's just a simple, good, horror film. The first thing you'll notice is that it looks 20+ years older than it is, and that's not an problem. It also has the best title sequence I've seen in years.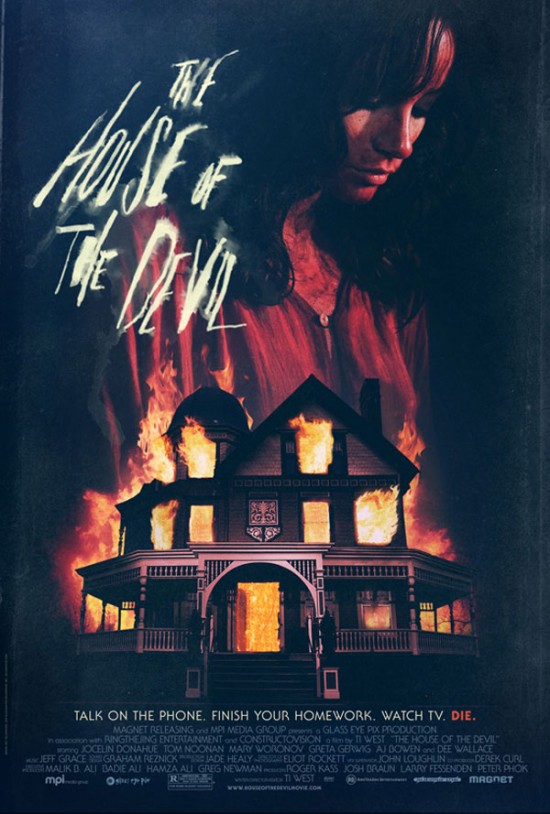 "HotD" is an intentional throwback: there's a young coed with a "Charlie's Angels" hairstyle. She's a cutie who turns to babysitting for cash. Her friend tools around in an old Volvo, listening to classic rock. Even the color schemes feel straight out of "Friday the 13th" or "The Hills Have Eyes." The effect is great, but the whole production is backed up by solid filmmaking.


The writers, director and actors give us good acting, a nice score, and a basic, suspenseful, story that plays out nicely. Violence is intense without being over-the-top, harsh enough for genre devotees but too quick and infrequent to be excessive. There's no noticeable CGI to make things easier for the crew. Best of all, the audience gets a quick ride that never overstays its welcome.

The experience starts slowly - and almost seems to drag at times. Yet the focused nature of the film means that everything moves along nicely. No time is wasted on peripheral characters, halfhearted subplots, or romances. The pace builds so well that the end approaches before you're ready.

I could spend time trying to figure out why the movie didn't have a stronger impact on me - but I think that would require excessive analysis, and so would be lame. The biggest complaint I can make is that the director plays his cards at the very start. The opening shot is white letters on a black background - this initial scrawl gives us some facts that tells us the nature of the conflict (i.e., vapmires, werewolves, zombies...). A certain aura of mystery does exist from beginning to end, however, as there is very little exposition here. More movies should follow suit on that front.

"House of the Devil" is not interested in being "unique," flashy, or loud. There isn't anything particularly new here, nor would I call it great; I liked and respected the work without loving it. Still, it's a well put-together movie. Unlike so many competitors, "Hotd" has a disciplined adherence to simple rules of filmmaking. It doesn't prioritize pointless junk (celebrity cameos, product placement, partial attempts at thematic depth) over telling a scary story through film.

This intelligent dedication to film school ABC's may be the greatest strength of "House of the Devil," and what truly sets it apart today - it actually does its job. And it features lots of feathered hair. Also, it gets bonus points for hiring Tom Noonan, one of the leads in "Manhunter," the first Hannibal Lechter movie. I recommend "HotD" for anyone who wants a solid horror entry without actually renting a 30 year-old picture.

I'll cover something in a different genre next time, but I haven't decided what.