Last Saturday, I was shocked to learn that some film-studio types want to make the same stupid mistakes over and over again. I'm less shocked by the poor choices than I am by the predictability of the subject matter. Today's post is all about this problem....

It's been a while since I learned that Soderbergh was going to make a film about famous piano player Liberace. I didn't know that Michael Douglas would be taking the lead role, nor that Liberace's young male lover would be played by Matt Damon - I found both of those facts out when I read Saturday's Yahoo! article on the film. And I do think that article is worth reading...




Apparently, Steven Soderbergh shopped his story to every studio, asking for a $5 Million budget for a movie that would have 3 oscar winners attached. And one of those stars was Matt Damon, who just left a very popular action franchise... Yet no Hollywood studio wanted to do the project. They were all put off by how "gay" Soderbergh's picture would be...

I didn't want to write about this yet, I was going to post this next week, but I read the article on Saturday and AV Club already posted about it on Monday. As it is, I get too much of my news through them, so I should really jump on every chance to write news posts that aren't beholden to them...

Back to the awful news: When pressed, Steven admits that the $5M price tag was deemed too much to risk on story about a gay man - they did pony up $1M for his movie that headlined a real-life adult film performer... But the article - and the director himself - are right in noting that this Liberace film comes years after the wild success enjoyed by Brokeback Mountain.

And other high profile pictures about gay man have been released for a while now: 1992's Swoon (which I will review shortly, btw),
1995's
Jeffrey
,
and 2009's Jim Carrey/Ewen McGregor picture I Love You Philip Morris.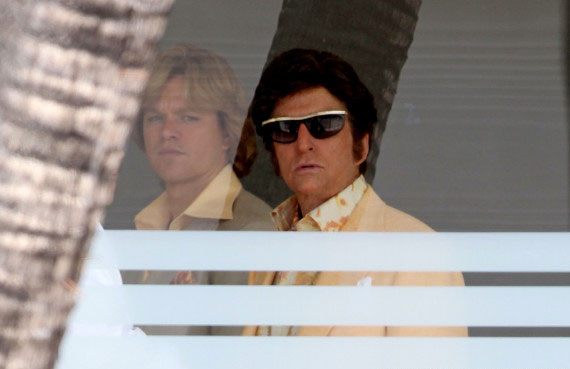 Looks more than a little like Roy Orbison, right?

Hell, I might have thought that Frank Oz's In & Out was atrocious and completely wrong-minded, but that movie did well at the box office... And there was even 1996's The Birdcage, which also did good business. For f--k's sake, Kiss of the Spiderwoman was a phenomenal, critically-adored, Oscar-winning film, and that thing came out in 1985! It made $17M at the box office in 1985 money.

And yet, for some stupid reason, nobody in Tinseltown's decision-making process realized that many films focusing on a group of male friends have a massive gay undertone (& a lot of the guys whose lives are about their bros don't realize it either), but those get a decent release. The same decision-makers have no interest in stories about gay folks and their lives... Like it's something "rare," "incomprehensible," or "unworthy" of being talked about or shown on film. There are 3 Jackass pictures, but some folks are too scared, shallow, bigoted, stupid - or they think that audiences are - to fund a picture about "the gays." These combined facts genuinely piss me off.

What I'm always shocked by - me, a guy with no interest in other men - is that instead of treating sexuality like something to be respected even a little, we get stuff like MTV/Fox/etc. racing to whip out a camera out every time two girls kiss each other, while two men together is treated as poor taste, ugly, or an oddity...

Take it from a straight male with no prejudice for or against a "gay film": f--k you and your homophobia, Hollywood. I hope when this movie is aired next month, that HBO eats up a s--t-ton of awards and attention and that people properly focus on your... deplorable attitude. It's an especially ironic way for things to play out, since Liberace had to always claim his love for his mother; the barriers on self-expression are still strong these days, apparently, even when the crossing point between American pop culture and music and film and tv sometimes look like they're one step away from breaking out into an orgy...